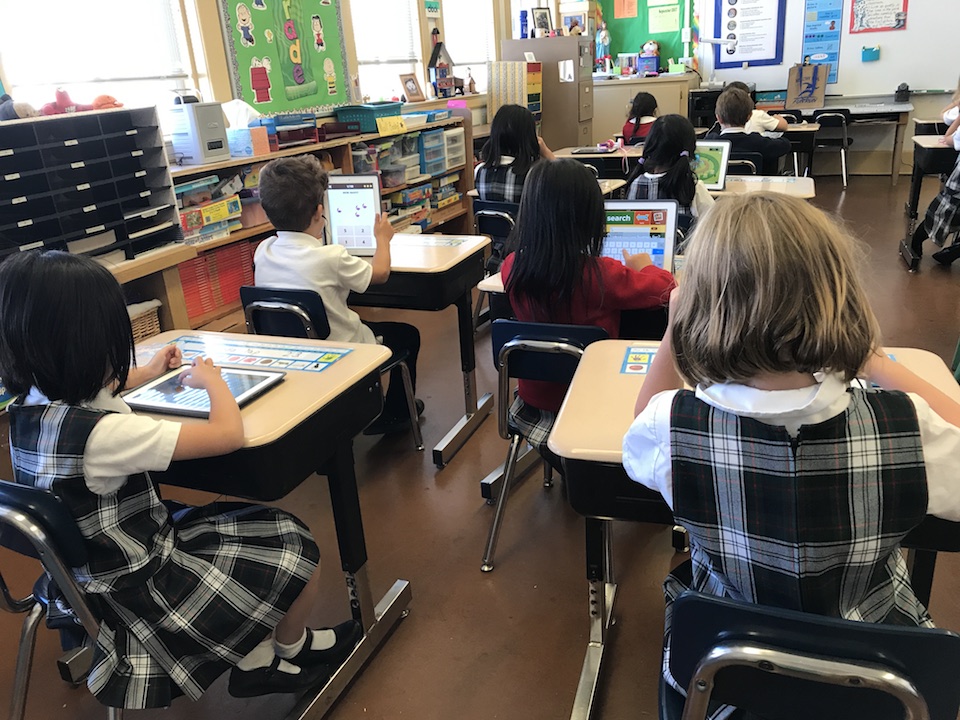 Academics
We're happy to provide you a robust, by-grade curriculum overview of each grade. It highlights what students learn in every subject area and supporting activities. Simply download the Curriculum Highlights PDF for your review.
Here are some highlights:
Technology

:

We are a 1:1 school, incorporating technology fully into each classroom. Starting in Kindergarten, students use iPads and Chromebooks to enhance learning. 
Science

: We're excited about our spacious, newly built

 Science Room. Our field trips include the Academy of Sciences, Exploratoreum, Pt. Reyes National Seashore, canoeing near Sausalito and more.
Music

:

Taught in our dedicated Music Room. Focus of younger grades is choral singing, while older grades also play various instruments. Performances include the Christmas program and spring talent show. Group piano and guitar lessons offered after school. 
Art

:

Taught in our dedicated Art Room. Encourages creative self expression, incorporates art history, and explores design and theory, such as perspective, portrait and color application. Many of the resulting masterpieces are displayed throughout our school.
Physical Education

: Our

 students enjoy getting to wear their P.E. uniform all day. Our school mascot is the Bulldog and school colors are blue and white. See our Athletics page for team sport detail. 
Learning Support

:

Recognizing that not all students learn in the same way and at the same pace, our Learning Support staff works with students as needed in small groups and 1:1, as suggested by learning specialists and classroom teachers.
St. Monica Curriculum Highlights By Grade: